Reviews from Parents
Sometimes, the recommendation of a fellow parent can make all the difference between whether you use a daycare facility or not. The parents who bring their children to Affordable Home Daycare couldn't be happier with the care their children receive. Read their reviews below!
Ms. Ravinder is the best! It was with an extremely heavy heart that we had to leave her center. We were moving out of state and had no choice, I tried to talk her into moving with us but she is dedicated to the education of the children in the Leesburg area ☺. Words cannot adequately described how great her day care is…we were treated like family from day one and my daughter became best friends with her daughter almost immediately. Ms. Ravinder's background is in education and it was apparent from day because our children started to flourish under her watchful eye. Her center is spic and span clean and our children were rarely sick while attending her center.
This is a small, friendly, family run daycare so you get that personal touch instead of feeling like an insignificant number in a huge daycare chain. Ms. Ravinder and her entire family really cares about your children and it shows! The price and location can't be beat either.
I feel very blessed to have found such a safe and loving place for our children. If you are in search of a the best childcare center in the Leesburg area then look no further than Ms. Ravinder's center.
Trust and believe me this place is A+ for sure.
- Ray F.
Ravinder has been wonderful, as we searched high and low for a good day care fit for our 4 1/2 year old. She was very responsive. I am very impressed with her daycare set up. You can tell the children are very content. Everything is very clean. Looking forward to our daughter starting there this week!
-Elizabeth H.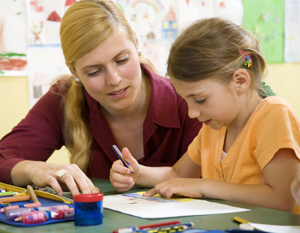 I couldn't possibly begin to express our gratitude for the amazing things Ravinder has done with my girls. I had a bad home daycare experience previous to meeting Ravinder and my daughter seemed to be regressing. When we started searching for new childcare I was extremely impressed by the cleanliness of her place, her genuine personality, and my oldest daughter felt right at home on the first visit! I entrusted her with my then 1.5 yr old and 7 week old, and the results were amazing. My oldest blossomed and was a totally different, happy, talkative little being. They sing their ABCs, know colors, and learn great social skills. My kids have now been there for almost 2 years and we consider "daycare" to be their "home away from home". They are always excited to go and always have great things to say about her. If you're looking for someone who is honest, open, genuine, loving, professional, and keeps an extremely clean house, Ravinder is the one! Thank you for taking such wonderful care of my little ladies.
-Christine and Billy
I'm very pleased to write this review to Ms. Ravinder. Although, it is hard to put in words how grateful I am for her loving care to my 2.5-year-old daughter. Each day I left for work with my heart content. I knew that my daughter was going to be in good hands. Ravinder's help and patience made potty training possible and easy. Kids always have lots of school projects which has been an amazing learning progress for my daughter. The place was always neat and clean. My daughter was changed, fed, and loved like she was part of Ravinder's family. I would be happy to be used as a reference for others who are interested in her service. I will highly recommend Ravinder's daycare.
-Karina B.